The lovely Lynnette Kraft is hosting a fabulous blog party over at her amazing site and I've decided to join in on all the fun. You should really write up a post of your own and link up! It sounds like it's going to be loads of fun-- and did I mention that there are some really awesome giveaway prizes? Head on over HERE and check them out for yourself! Now, it's time for me to complete my answers to the questions she posted on her site. But before I do, here is a little introduction for those of you who don't know me…
My name is Emily -- I'm 16 (almost 17) years old, I live with my two parents, my little brother, and my older sister in Eastern NC, I'm homeschooled, and I like to spend my free time taking pictures, writing, laughing, sewing, doing things with my siblings, crocheting, cooking and reading. I love my family and friends and I am so very thankful for the life I've been blessed with. Most of all though, I love Jesus and I want to glorify Him with everything that I do in my life. Also, I've been keeping this blog since January 2008. Not only do I love blogging about my everyday life, family, photography, goals, and random thoughts, but I've also made some wonderful friends here since I've started. Blogging is a great way to meet many new people from all around the world and I'm so thankful for all the friendships I've made with other like minded girls. I love blogging! :D
If you'd like to know more about me, what my goal is for this blog, my hobbies, or my love for Jesus, please feel free to use my menu bar and click "More About Me", or if you're one of my faithful blog readers just keep scrolling to learn some new random facts about me…. ;)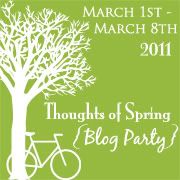 How would people describe your personality? (If they could only use ONE word.) Are they right? Okay, I've been told that I am…sweet, feminine, elegant, lovely, gentle, and one-of-a-kind. I guess you could say I am one-of-a-kind. Everyone is unique, right?

What is your comfort food/drink? I'm not really picky when it comes to food, but most anything with chocolate, sesame chicken, fresh veggies, baked macaroni and cheese, and Mom's delicious beef roast with carrots, and mashed potatoes with gravy all make me really happy. I also love lemonade, iced sweet tea, Mountain Dew, and Dr. Pepper is also starting to grow on me. (Aren't you proud of me, Sarah-Anne?) I'm really not very picky, though. I like most types of food. :)

Be brave – tell us something very random and weird about yourself. This is actually a really hard question for me to answer at the time. I don't usually think about it. *puts thinking cap on* Well, this isn't totally weird, but I like to have my room and the rest of the house completely straight before I go to bed every night and I don't like to have things out of order when I get up in the morning (having a messy house is not a good way to start the day). Okay, another few random facts about me would be that I like to smell all the shampoo choices (in the brand that I buy) in the store before I buy one, I don't really like using lotion or baby powder, and when I was a little girl my arm got pulled out of it's socket. Oh, this is really random and kind of gross, but when I was two years old, my mom found me in the my grandma's kitchen eating her cat food. It's absolutely disgusting and I can't believe that I would do that. Anyway, those were really random facts about me. I hope you don't think I'm too weird. Haha!

Movies: Action, Drama, Romantic Comedy, Documentary, Comedy? What are your favorite genres? I'll watch action, drama, decent romantic comedies, and any good family movies. I just like to watch movies with a good story line, with good characters, and movies that make me feel like I'm not wasting my time watching it. I'm sure that most of you would agree when I say that… ;)

Books: Fiction, Non-Fiction, Romance, Biographies, True Stories, Self-Help, Devotional/Study? What are your favorite types of reading material? I like fiction and non-fiction books, but I really like historical fiction, true stories, devotional studies, and mostly any Christian books that talk about purity, Biblical womanhood, etc.
If money wasn't a factor, what stores would you shop in? I would shop at Khols, Target, Macy's, Ross, Joann's, Dress Barn, and probably Belk's. :)
What are your favorite animals? I like lots of animals, but my favorites would have to be horses, cats, dogs, dolphins, and I've always thought that elephants and giraffes are pretty amazing creatures too. Don't you agree?
When you leave a social gathering, do you wish: You would have talked more or You would have talked less? I guess it just depends on the social gathering. I like to think that I talk enough, so that I'm not being rude, but then I also don't want to take up the whole time by talking my head off without letting the other people have anything to say. I hope I'm somewhere in "the middle" after I leave. ;)
Who is your favorite blogger? Why? I've actually come to the conclusion that I don't have a favorite blogger. I have many different bloggers that I love and for many different reasons too. I really like blogs with good writing, interesting topics, photography, recipes, and anything pertaining to sewing will also draw me in. And, if you have great giveaways on your blog, then you'll probably see me over there too.
Well, that really was fun! You should head over there and link your blog up too-- and leave a comment on her website. I would love to come and check out your answers too, so let me know if you link up! Have a wonderful Tuesday, everyone! ;)
Much Love,
Emily